Introducing your Basketball SA Hall of Fame Inductees for 2021!
Earlier this month South Australian basketball royalty, family, friends and supporters came together at the Stamford Grand to celebrate the 2021 Basketball South Australia Hall of Fame.
We would like to introduce you to our 2021 Inductees and Legends… 
Inductees
Legends
Basketball SA would like to thank our Wine Partner Lindsay Wine Estate for their support of the 2021 Hall of Fame event.

2021 Hall of Fame Image Gallery
Congratulations to our Emerging Athlete Development Program Players for Term 3, 2021
Basketball SA congratulates the players selected to be part of our Emerging Athlete Development Program Under 13/14 program for Term 3, 2021.
Throughout regional SA there are many EADP hubs and this hub is for Metro based players and Country based players who live within safe driving distance of Magill.
The aim of the program is to educate players and coaches in the concepts and underpinning skills of SA Style of Play. The 7-week program will run at the University of SA Magill Campus stadium/gym on Mondays (girls) and Thursdays (boys). Players selected to be part of the program are those that performed well in the District competition (Metro and Country eligible) and performed well at the April and July 3×3 Development Camps.
Country eligible players who meet the above criteria and live less than an hour from Magill have also been included in these selections. Players who live more than one hour from Magill have been given the option of attending and are named separately.
The full list of invited players are:
Under 13 Girls
Mischa Crichton
Annaliese Elliott
Myah Ford-Wilson
Nari Freckleton
Maia Freemantle
Scarlett Glatter
Caitlin Hardin
Claire Hardy
Daisy Hocking
Mia Horton
Zoe Jaekel
Lara Jolly
Kallie Mellow
Erin Morris
Izzy Purdie
Hayley Real
Sydney Reemst
Ruby Stockley
Country > 1 hour
Charlotte Keleher
Lily Milosevic
Under 14 Girls
Addison Breeding
Gemma Cocks
Keira Copeland
Aspen Crase
Frankie Fielke
Keira Gardiner
Abbie Healey
Mahlia James
Abbey Jones
Ruby Lynch
Taya Maxwell
Sava Ogrodowski
Amanda Pittaway
Emma Scott
Sage Spencer
Olivia Tredrea
Polly Turner
Georgie Twelftree
Emily Villano
Sarah Warner
Country > 1 hour
Maddie Dinh
Bailey Hahn
Sienna Lewis
Lilli Maywald
Under 13 Boys
Travis Ahrens
Hudson Boal
Riley Brine
Joshua Dartnall
Harry Davison
Aden Fishpool
Leo Forgione
Levi Hibberd
Jett Holmes
Lucas Li
Cohen Mortimer
Gian Nalupta
Oscar Potter
Oscar Prokic
Micah Ryan
Sam Walsh
Leo Stephanos
Samuel Uzcategui Montenegro
Beau Wendland
Vince Zaitidis
Oscar Zarins
Under 14 Boys
Jordan Aldridge
Harrison Chambers
Ollie Clarke
Josh Clayton
George Clydesdale
Alfie George
Aidan Grieger
Hudson Hynes
Frazer Lawrie
Ethan MacDermot
Riley MacDonald
Kale Matthews-Hampton
Archie McNamara
Koby Moir
Kade Monteleone
Charlie Pedler
Luke Pfitzner
Isaac Riddle
Mack Schaftenaar
Kai Sharpe
Ronald Waters
Ezra Wormald
Noah Zaltron
Jacob Zganec
Country > 1 hour
Tahj Bryant
Mitchell Harris
Lachie Keynes
Henry Pedler
Congratulations… Allan Polkinghorne
The Basketball SA AGM was held on 30 May 2021, and we are delighted to announce that at that meeting a Life Member Nomination for Allan Polkinghorne was accepted by the BSA Council. The Life Membership award recognises the long-term commitment of an individual who has made significant contributions to their local basketball community.
Allan has contributed to Basketball since 1955, from a player to official and administrator. To this day, Allan continues to contribute to the referee community within the SA Church Basketball Association.
Allan was nominated for Life Membership by SA Church for his countless volunteer hours to the sport, his exemplary character, and for the positive impact he has made to basketball and officiating over the last 60 years.
Allan has been a stalwart of SA Church as an official and administrator. His first formal appointment being in 1972 on the Rostering Committee of SA Church Basketball Officials Association where he also held positions of President, Vice President and Secretary over the course of his tenure. Allan has trained, assessed and mentored countless referees for basketball and was inducted into the Basketball SA Platinum League of Referees in 2014.
We congratulate Allan on this significant achievement and welcome him to a highly prestigious group of players, coaches, officials, and administrators, who together form a rich history of basketball in South Australia.
Allan's award will be publicly acknowledged at the Hall of Fame Dinner on 9 July 2021, when we will also commemorate the Life Memberships of Bert Bargeus and Colin Thompson.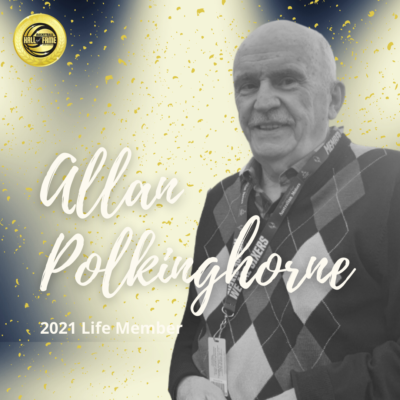 Congratulations… Frank Angove & Lorraine Eiler
Basketball SA Hall of Fame "Legend" Werner Linde will be joined in that exclusive category by two of the sport's all-time greats across multiple contributions, in 50-60s superstar Lorraine Eiler and pacesetting pioneer Frank Angove.
Both Lorraine and the late Hiram F. Angove made contributions to the sport far above and beyond and their elevation to "Legend" status at the Hall of Fame presentation dinner on Friday, July 9 at the Stamford Grand Hotel will be one of the event's major highlights.
Peter Ali, David Gould, Bryan Hennig, Boti Nagy, Geoff Weeks, Ted Powell and the 1990 North Adelaide Rockets women's team will be inducted into the BSA Hall of Fame on the night.
Frank Angove was among the Hall's original trio of inductees in 1993 after a long and distinguished career in the sport, winning four A-Grade championships at Our Boys Institute (OBI) – including two as captain-coach – and representing South Australia at Australian Championships from 1946-1951.
In 1951, he was named the best player at the national tournament, the forerunner of the MVP award.
As an administrator, Frank formed the voluntary building committee which culminated in the erection of Forestville Stradium by 1953, and was active in negotiating the building of additional stadia at Bowden, Marion, Hillcrest, Sturt and Morphett Vale.
He also negotiated the site and building of Apollo Stadium in 1969, managing the venue until his retirement in 1978. Frank also was the honourary state secretary for 25 years and employed full time for 11.
As a team manager, he was SA's manager at 26 national championships, the Australian men's team manager at Olympic Games in 1964 and 1972 and at the FIBA World Championship in 1974.
Frank also wrote basketball for The News newspaper for 30 years, was the first life member of both the District and Metropolitan Amateur Basketball Association and the SA Amateur Basketball Association (now BSA), the fourth life member of Basketball Australia and in 1980 he was awarded the Order of Australia for his services to basketball.
Lorraine Eiler (nee Maguire) was a sporting superstar in South Australia and Australia, as both a state and national player in netball, a four-time SA squash champion and ranked No.2 in Australia in 1959.
As an A-Grade tennis player for East Torrens, she won singles and doubles tournaments, yet despite her multiple successes, her first love was basketball.
In 1953 when the Harlem Globetrotters played in Adelaide, Lorraine and the rest of her seven-a-side basketball team (as netball then was called) were asked to fill in on the evening's program.
Dazzled by the "five-a-side" game, Lorraine and Eril Homburg (nee Drennan) asked Vern Thomas – who would coach Australia's historic first national team at a World Championship when he had charge of the original Opals in 1957 – for some lessons in "five-a-side".
They eventually formed the club Vikings and approached Frank Angove to arrange games for them.
That led to the start of the South Australian United Women's International Rules Basketball Association in which Lorraine's Vikings remained unbeaten for two years, winning championships in 1955 and 1956.
Women's basketball also was underway in Victoria and NSW, Lorraine driving the start of national championships which eventually encompassed all of the states and the ACT.
Captain of the SA team in 1955, she guided it to the Australian championship title that year and again in 1956 before being named captain of the Australian Opals team which paid its own way to compete at the 1957 FIBA World Championship in Brazil.
Lorraine's Saturday morning sports show on radio station 5CL – "Calling all Sportswomen" – also was groundbreaking, as is the fact she is the first Australian woman to receive a U.S. college scholarship.
Inducted into the Basketball Australia Hall of Fame in 2007, the same year as Frank Angove, it truly is fitting the duo of basketball visionaries and pioneers achieve elevation to Legend status together.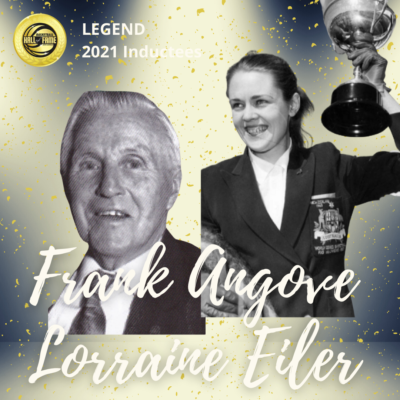 Congratulations… Boti Nagy
Boti Nagy was born into a Hungarian migrant family that fled Europe post-World War II for a better life. Australia promised and delivered. Boti unobtrusively became the best known of the illustrious 'Nagy Brothers' who dominated SA basketball during the 60s and early 70s.
Unlike his award-winning siblings, Boti became more famous (or infamous) as the most driven basketball journalist Australia has seen. His first 16 years as sports reporter for The News newspaper were writing stories in his own time and without pay. Such was his passion to deliver at least one basketball story in the newspaper each day that any day when he couldn't deliver this he viewed as a failure.
However, the Boti Nagy basketball story does not begin and end with his role in the media, but actually covers just about all areas of the sport.
Boti has been a player, coach, referee, club president, administrator and innovator who was even a playing-coach of Budapest's Under 12s in 1966. Believing that playing the game was an important upgrade on one training a week, he encouraged his teammates to play 3-on-3 basketball each Saturday afternoon after their morning game.
Everyone played and everyone refereed and it was in this competition Boti's match report writing developed. He typed weekly match reports on his Remington typewriter and yellow paper, (including carbon copies for players to share), mimicking the yellow sheet provided for the District competition at Forestville each Thursday night.
Had Boti 'patented' the 3×3 game, he could have made a fortune. His experience in 3×3 definitely helped his selection as a member of the SA District Under-12 teams which competed against Victoria in Adelaide and Melbourne in 1966 and 1967.
Boti's playing career, which included state representation at the inaugural Australian Under-20 men's championship in Brisbane in 1974, ended prematurely through a knee injury sustained one Thursday night in District basketball at Apollo Stadium. He played three seasons at the District level for Norwood and Adelaide, as well as a season for North Adelaide in the Reserves competition.
As a senior coach, he had the helm of women's teams in the District competition, most notably Adelaide Giants (which became Adelaide Southern Suns) from 1978-1981 inclusive, then competed in the finals in all five years that he coached Sturt (1984-88).
He took Norwood Flames into Division 1 and on to the finals in 1990, then coached Adelaide Southern Suns (became Southern Tigers) from 1993-1995 and again in 2000, making finals in 1993 and 2000.
As Sturt's SEABL women's coach from 1986-1988, he led them to interstate finals in 1986 and 1987. In 2019, he returned West Adelaide Bearcats to the Premier League finals.
As Premier League Assistant Coach with Forestville Eagles, he was part of the 2001 Championship and with South Adelaide Panthers part of the finals series in 2015 and 2016.
Boti has coached every Division 1 level of junior basketball, from under-10 to under-23 and took Forestville to Under-14 Nationals in 2006, reaching the semi finals.
He was named Club Coach of the Year (Females) at Forestville in 2006 and at Southern in 2009 and 2010, was a member of the NBL Games Rules Committee in 2000, is a five-time Basketball Australia Hall of Fame nominee. He was instrumental in brokering the merger of Adelaide Giants and Southern Districts Cobras clubs to form Adelaide Southern Suns.
As a dedicated basketball writer for News Corp for 43 years, he won multiple awards and is a ten-time Basketball Writer of the Year of the NBL and WNBL.
As an administrator, Boti served as BASA's Development Manager and a member of the BASA Senior Competition Committee, responsible for restructuring of the senior basketball program in SA with the formation of the Australian Basketball Association Central Conference competition.
He also was responsible for the formation of a country league, the Southern Conference Big 8 (originally Big 6) which featured teams from Mannum (Adelaide River Redbacks), Murray Bridge, Eastern Hills, Port Pirie, Port Augusta, Whyalla, Millicent and Riverland.
Best known though as Australia's premier basketball writer and a custodian of the sport's rich history, Boti was notable for always calling it as he saw it and a a champion for the promotion of both the men's and women's games.
Inheriting the role from contributing writer and Hall of Famer Frank Angove, Boti's goal was to have basketball viewed as a major sport and for his weekly 'Around the NBL' column to be sought as highly as Frank's original 'Basket Hanging' column was in Saturday editions of The News.
Boti's 1989 book 'High Flyers-Women's Basketball in Australia' brought the women's game into sharp focus and in 2008 he penned the Brett Maher biography 'Mahervellous: The Brett Maher Story'.
As the only writer to witness the birth (and demise) of every NBL and WNBL team, he inhabits a unique position in our game.
Boti's induction into the Basketball SA Hall of Fame is a worthy recognition of his contribution to basketball.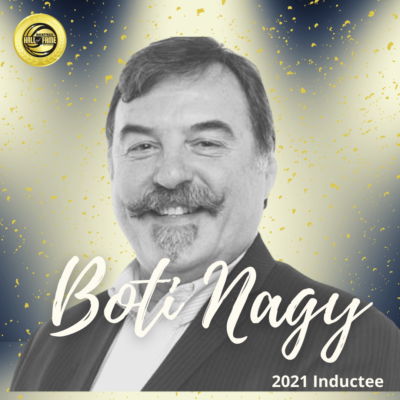 Congratulations… David Gould
Before there was Ben Simmons, before there was Lauren Jackson, before there was Andrew Gaze, Australian basketball already had a unique individual making his mark on the world stage – South Australia's David Gould.
Already earmarked for an excellent career in the sport when he represented South Australia in a series of games against Victoria (and Andrew Gaze for that matter) in under 12s in 1976, David's career was cut down by a shooting accident which left him a paraplegic.
But very little could deter David's indomitable spirit. He turned to Wheelchair Basketball and was representing South Australia in 1982 at the age of 16.
He was selected in the Australian team in 1984 at the age of 19 and before he retired, David played in five Paralympics and five World Championships.
Clearly he was an exceptional talent, a truth reinforced with his selection in the World All Star Five at the 1994 World Championship.
Two years later he was selected in the World team to play against USA in a pre-Atlanta Games tournament.
But perhaps his greatest achievement was as co–captain in Atlanta of the 1996 Australian Rollers team which won Australia's first ever gold medal at Olympic or Paralympic level.
Revered and respected worldwide, David represented Australia more than 550 times as a player or coach and his record within Australia is exemplary.
At national championships between 1982 and 1993, David led South Australia to titles in 1982-1986-1989-1990-1991, led the scoring at every tournament from 1984 to 1993, was the carnival MVP or Best and Fairest and/or won selection in the All Star Five at every championship.
With the advent of the National Wheelchair Basketball League (NWBL) Gould's South Australian team, now known as the Adelaide Thunder, won the championship in 1993.
In 1994, with David now vice captain, the team went undefeated to the championship and he became the recipient of the Carlton United Disabled Sports Star Award.
As his Adelaide Thunder in 1995 won the NWBL championship for the third year in a row, David was voted the league's Most Valuable Player.
Playing for South Australia at nationals in 1996, he was runner up as Most Valuable Player and Top Points Scorer, and selected in the All Star Five Team … and that was despite only playing in four of the tournament's seven games.
Sidelined for most of the 1997 season due to an injury, David still finished runner up as Top Point Scorer, averaging 25.9 points per game, and once again was named part of the All Star Five.
In 1998, he was part of the South Australian 3X3 team that won a tournament in Himeji, Japan. Wherever he turned his hand, success followed.
As Adelaide Thunder captain in 1999, he again was the NWBL's Top Points Scorer, Most Valuable Player and named to the league's All Star Five, an accolade he also achieved in 1998 and again in 2000.
David's level of singular dominance of a team sport and his ability to create success all around him is second-to-none, his list of achievements truly mind-boggling.
And this is just the tip of the iceberg.
As co-captain of the Rollers national team at the 1998 World Wheelchair Basketball Championships in Sydney where they finished fourth, and in the six-nation Roosevelt Cup tournament in the United States, where the Rollers finished sixth, his position as one of the all-time international greats in the sport stood out.
He carried the Olympic torch at the 2000 Sydney Paralympics and received an Australian Sports Medal for his "many years of service to the Paralympic movement as a basketball athlete."
Retiring from playing international basketball after the 2002 World Championship in Kitakyushu, Japan, he naturally next turned to coaching – first with North Adelaide juniors – and by 2009, was coach of his beloved Adelaide Thunder.
In 2011, he became a full-time coach under the Australian Sports Commission Scholarship Coach Program, returning to the Paralympics the following year as an assistant coach of the Australian women's national wheelchair basketball team, the Gliders.
They claimed silver at those London Games.
David coached the Women's Under 25 team at the 2015 Women's U25 Wheelchair Basketball World Championship in Beijing and in 2016, he was appointed Gliders' coach, taking them to the 2018 World Championship.
Currently Basketball Australia's Wheelchair Basketball Development Coach in South Australia, David's career has been one of genuine and profound inspiration, turning what could have been a tragedy into a life's work of dedication, hard work and success.
He is without doubt one of the state's greatest and bravest sportspeople, and his ascension into Basketball SA's Hall of Fame in its 2021 Class of Inductees is the culmination of a life of humility, of setting a great example, both motivational and inspirational.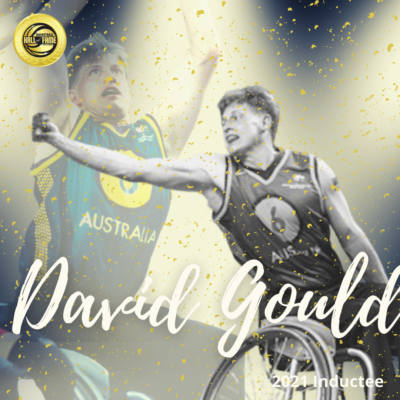 Congratulations… Bryan Hennig
Bryan Hennig won the Woollacott Medal as the fairest and most brilliant player in South Australia in 1961 – exactly 60 years ago.
A lifelong lover of the sport, being deemed as "too short" never was a deterrent for Bryan. If anything, it motivated him to become highly skilled and a high achiever in the game.
Already a pocket dynamo as a youngster, Bryan was selected to represent South Australia at the historic first Australian Under-18 Junior Championship in 1954 and again as a top age junior in 1955.
Equally excited by the prospect of coaching, in 1953 – even before his arrival at under-18 level as a player – he was the inaugural coach of the Falcons team which competed in the OBI's Women's League.
They finished second to the powerful Vikings, Bryan holding down the coaching role for three years with the Falcons.
Rising in stature as a player in his own right, Bryan was selected for the senior South Australian team from 1957-1962, winning the national championship in 1957-1958-1959-1960.
By 1961, Bryan had established his presence on the national scene and was first part of the Australian All States team which toured New Zealand, before being selected to represent Australia at the FIBA World Championship in Manila, Philippines, in 1962.
When Philippines President Diosdado Macapagal refused to issue visas to players from Communist countries such as Yugoslavia, FIBA pulled the pin on the tournament and instead re-assigned it to Brazil in 1963.
And while there was a World Series in Rio in 1963, those nations chosen to compete in 1962 in Manila went ahead anyway and played the now non-sanctioned World Championship.
Matches were held at the 30,000 seat Big Dome in Manila and Bryan's teammates on the Boomers team included Lindsay Gaze, Barry Barnes, Mike Dancis, Ken Cole, Billy Wyatt, John and Mal Heard and John Hody.
In 1964, by which time Bryan had moved to Tasmania – which he represented at Australian Championships from 1963-1968 – he looked an absolute certainty to be selected on the Australian team bound for the Tokyo Olympic Games.
His chances for selection on what would become one of Australia's most famous and successful early international teams, seemed assured during the Australian Championship at Adelaide's Forestville Stadium.
As the weeklong tournament among the states concluded, Bryan was named as the carnival's "best and most brilliant player" – the forerunner of the Most Valuable Player award. Naturally, it was assumed he would also be named in the 12-man Boomers team for Tokyo but in one of the most controversial and shock decisions of the time, his name was the notable absentee.
With South Australia winning the Final from Victoria, and NSW third, Bryan apparently had no allies around the selection table, the Olympic team comprised of players from those state teams.
In any review of the history of the Norwood Basketball Club, Bryan's role in it is profound and exemplary. Apart from a brief stint in 1960 spent with the Latvian-based Venta club, Bryan played for two clubs in South Australia – Norwood and the Hungarian-based Budapest.
He was perfectly placed when the two clubs merged many years later to form the Norwood-Budapest Basketball Club, Bryan later even turning to administration as the club's president for 15 years from 1969.
Starting at Norwood, he crossed over to Budapest in 1957 and played on the Hungarian club's OBI State championship winning teams of 1957 and 1958.
When Budapest joined the District and Metropolitan Amateur Basketball Association, Bryan was a key member of its 1961 and 1962 State championship-winning teams and its 1963 runner-up.
Returning to South Australia from his years in Tasmania, Bryan coached South Australia's Under-18 state team in 1972 and 1973.
Bryan still also was playing at top level with Norwood-Budapest (which eventually eased the Budapest name into retirement) from 1968 to 1973.
A hustling, fearless defender with wicked quickness and a copybook jumpshot, he has been a regular participant in Masters Games since 1988 and as one of the all-time greats in South Australian basketball, is a worthy recipient of BSA Hall of Fame induction in the Class of 2021.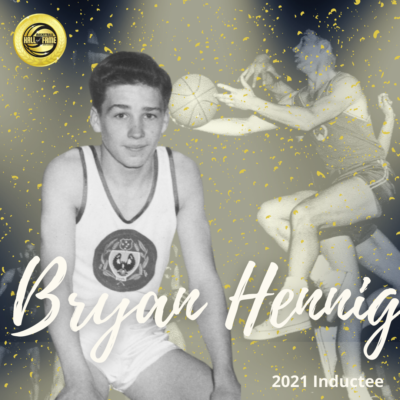 Congratulations… Geoff Weeks
A powerful case can be made for Geoff Weeks that would rank him as the No.1 referee ever produced in South Australia.
His record of achievement as one of the nation's greatest referees is second-to-none in SA, his understanding and appreciation for what the players were experiencing and ability to officiate with a common-sense and supportive approach setting him apart from an early age.
He called his first women's state league game in 1974 and first men's match in 1976, en route to winning the Phil Yuill Trophy as SA Referee of the Year 23 times from 1978-2001.
During that period and beyond, Geoff officiated the State League Finals series for 27 years from 1978-2005.
Unquestionably the stand-out umpire in the state, when the NBL launched in 1979, he immediately was part of the officiating panel and called a whopping 697 games over 30 seasons. He officiated in 29 NBL Finals Series and handled three Grand Final series.
Twice Referee of the Year for the WNBL, he was part of the women's league's inaugural panel from 1981 and called 100 games and four Grand Finals.
Highly respected by players, coaches and fans alike due to his on-court efficiency, laid-back nature and ability to accurately read the play, Geoff set the standard to which young officials could aspire.
He remains an inspiration and a valuable resource to referees learning the craft of officiating. His encouragement to officials working their way up the ladder of success has been invaluable.
And why not?
He stands alone as Australia's youngest FIBA licence-holder, which he held for 28 years from 1979. That was a mere year after attaining his Australian Referee's Badge and by 1981, his international officiating journey was underway when he called the FIBA Oceania Under-20 Men's Qualification Series.
He already was calling various international games with visiting foreign teams in Australia from 1979 but his talents saw him attending the 1983 FIBA World Junior Men's Championship in Spain as Australia's referee and two years later, he was the nation's official at the FIBA World Junior Women's Championship in the US.
In 1988, Geoff became an Olympian when he refereed at the Seoul Olympic Games, arguably the pinnacle of his international achievements.
Highly respected throughout Asia because he could not be influenced, financially or otherwise to tamper with games, Geoff officiated at the 1984 FIBA Asian Women's Championship in Malaysia, the 1986 Men's Crown Prince tournament in Thailand and was the gold medal match referee at the 1991 Malaysian Invitational tournament.
He officiated at the 1992 William Jones Tournament in Taiwan, the 1993 FIBA invitation Asian Junior Men's Basketball Championship in Malaysia which included handling the gold medal playoff, the 1995 Invitation Malaysian Men's Basketball League Finals Series where he again had the gold medal playoff as he did at the 1996 Invitation Indonesian Men's Basketball League Finals Series.
Geoff's prominence across Asia continued with his performance at the 1999 FIBA Invitation Asian Men's Basketball Olympic Qualifications Championship in Japan again earning him the gold medal game.
His ability to ignore outside influences and never lose focus saw him ref the 2000 Invitation Chinese Basketball League All Star Game, line up as the gold medal game ref at the 2001 FIBA Invitation Asian Club Championship in Malaysia where he returned two years later for the Sarawak Men's Invitational Tournament.
Of course Geoff wasn't limited to Asia, calling the women's gold medal playoff at the 1990 Goodwill Games in the US and officiating at the 2001 Men's Goodwill Games in Brisbane.
Naturally Geoff also officiated at Australian States Junior Championships, from under-16s to Under-20s, his stellar career coming to an abrupt and premature end due to a severe ankle injury in 2008.
Two years later, FIBA awarded him its Retired International Licence which came on top of his 1989 Basketball Association of SA Life Membership, 2004 NBL Life Membership and seven years ago, Geoff became an inaugural member of the Basketball SA Platinum League.
Affable, popular and beyond reproach for his work as an outstanding referee in an era of great officials, Geoff Weeks' induction into the 2021 Basketball SA Hall of Fame is fitting acknowledgement of a career brilliantly and meticulously performed and executed.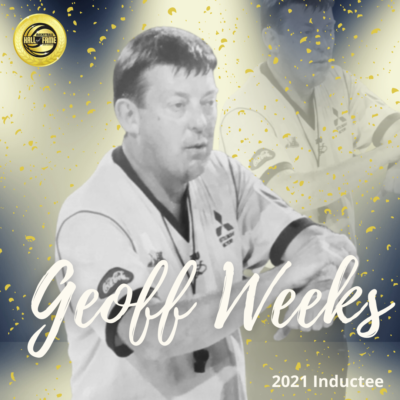 Congratulations… North Adelaide Senior Women's Team of 1990
North Adelaide's 1990 senior women's team was one for the ages, arguably the greatest single-year club team in Basketball SA's long and storied history.
From the outset, the Rockets looked the part, sweeping through the City of Adelaide Conference – the former "summer season" in SA – with a 10-0 record to capture the championship.
The Australian Club Championship annually brought together the nation's 24 leading club teams to contest a four-day carnival that would determine our champion side, even though the WNBL now provided a weekly home/away competition to achieve the same result.
The ACC tournament staged in Melbourne, North Adelaide duly swept aside the best the nation had to offer, completing its journey to the championship with a 5-0 winning streak.
Playmaker Vicki Daldy was named MVP of the Grand Final and into the tournament All-Star Five after being named MVP of all five of North's ACC matches.
Coach Mark Molitor was named the Coach of the Tournament.
By now, many were sensing these Rockets were bound to be a team of destiny. Molitor, recruited as an American import to play for North's men's team in the early 80s, had assembled an exceptional side that had strengths in every position.
In Hall of Famer Rachael Sporn, North recruited the best centre in the business, then retained dual-Olympian and Hall of Famer Marina Pearce (nee Moffa) and Opals forward Donna Brown to support her.
Murray Bridge's young tyro Jo Hill and talented Eastern Hills forward/centre Melissa Day rounded out a richly-talented frontcourt, ably supported by a premium backcourt.
Daldy, who would continue on to coach Norwood to multiple state titles and also Adelaide Lightning to a WNBL championship, provided the team's on-court leadership as its floor general.
Beside her were Michelle Weir, American import Jenny Brown, Vanessa Porritt and Jacqui Pearce – as formidable and deep a guard combination as could be found in the country.
And whenever "Sporny" and "Moff" were absent due to Opals national duties, former veteran WNBL forward Leeanne Grantham was one of the fill-ins used to maintain the numbers and depth of this awesome team.
Throughout the WNBL regular season, North looked capable of achieving what no South Australian club team had and in the 10th year of the league, the Rockets reigned supreme, beating the Kathy Foster-led Hobart 72-57 in the Grand Final, played in Hobart before a full house which steadily fell into greater and greater silence.
En route to claiming the crown, North Adelaide became the first non-Victorian team to do so, the first (and ultimately only) club team from SA to win a WNBL championship and finished the home/away season with a 22-2 win-loss record.
Along that journey, the Rockets set a league record by winning 21 consecutive games before giving the WNBL two members of its All-Star Five in Vicki Daldy and Donna Brown, while Brown also was named MVP of the Grand Final success.
Back in Adelaide for the main season – then known as the State Bank League – North thrashed fellow WNBL club Noarlunga City Tigers by 29 points in one semi final before routing West Adelaide 59-41 in the Grand Final to claim the SA Championship.
This time it was Sporn who claimed Grand Final MVP honours in a season where three of the state's All-Star Five were from the Rockets, namely Sporn, Brown and Daldy.
It was the Rockets' remarkable 12th consecutive State League Grand Final appearance since 1979, and gave them the "threepeat" with championships in 1988-1989-1990.
Donna Brown was voted by the referees as the 1990 Halls Medallist, the state's fairest and most brilliant player, while Daldy was named the league's MVP on the annual vote by her peers.
Brown also was awarded as the state's Best Defensive Player, Molitor named Coach of the Year for his second year in succession and in all, North Adelaide drove through 1990 winning 56 games and dropping just six.
Molitor's coaching assistant, Jan Stirling, went on to further great success as a four-time WNBL championship coach of the Adelaide Lightning and steered the Australian Opals to a FIBA World Championship Gold Medal in 2006.
As a team of destiny and one of total domination, North Adelaide Rockets of 1990 remain incomparable, also winning the McAvaney Award as the "best club team" at the 25th SA Women's Sports Association awards.
| | | |
| --- | --- | --- |
| Year | Event (including location) | North Adelaide Result |
| 1990 | City of Adelaide Conference Champions – Adelaide | (W-L: 10-0) |
| 1990 | 1990 Australian Women's Club Champions – Melbourne | (W-L: 5-0) |
| 1990 | Women's National Basketball League Champions – Hobart | (W-L: 24-3) |
| 1990 | 1990 State Bank League Champions – Adelaide | (W-L: 17-3) |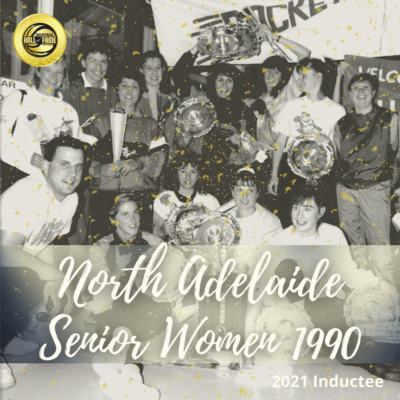 Congratulations… Ted Powell
Ted Powell's basketball legacy in South Australia is an amazing story that covers everything from venue management, to junior coaching, to senior coaching and to being the driving force behind what now is the burgeoning competition known nationwide as the Women's National Basketball League.
It truly takes in an extremely broad range of basketball-related activities but undoubtedly his greatest single achievement was the inauguration and launch of the WNBL, a challenge he took on after coaching West Adelaide's women's team to the 1980 SA Championship.
Powell inherited the Bearcats' senior women's team from Terry Aston and took his beloved Bearcats to SA championships in 1980-83-87 and also into the 1985 WNBL Final and Australian Club Championship Final that same year.
The men's NBL launched in 1979 and Powell, always a strident equal opportunity advocate, decided it was time a genuine effort was made to establish regular interstate competition between women's club teams as well.
Until then, the only arena for interstate club interaction was either the Australian Club Championship – an annual four-day tournament featuring the 24 best clubs from around the nation, with the host venue rotating between Sydney, Melbourne and Adelaide – or various popular minor tournaments such as the Warrnambool Seaside Classic around Australia Day, or Swan Hill's annual New Year's carnival.
The Australian States Championship, a weeklong carnival contested annually between senior state teams, also still was in operation. The problem with this competition was it only catered for the 10 selected elite players of each state.
"We were looking to raise the level of club competition by regularly playing against the best from interstate," Powell said years later when recalling how it all began. All that existed at the time were repetitive and one-dimensional state leagues.
Powell sounded out fellow South Australian coaches Kay McFarlane of North Adelaide Rockets and Brendan Flynn of Noarlunga City Tigers about a concept involving the three SA teams and three leading Victorian clubs, St Kilda, CYMS and Telstars competing in a regular interstate competition.
The initial name for what would become the WNBL was the Southern Conference Big Six, Powell also engaging St Kilda women's coach Bill Palmer in the ongoing dialogue.
Buoyed by his support, Powell immediately contacted McFarlane and Flynn to arrange a lunch meeting at the Governor Hindmarsh Hotel in Adelaide to discuss the next steps.
By the time the 1980 Australian Club Championship in October in Sydney came around, NSW teams Sutherland and Canterbury-Bankstown were also invited.
In Warrnambool on Sunday, January 25, 1981, the eight-team competition was ready for its June launch as the "Women's Interstate Basketball Conference." The Australian Institute of Sport had the funding to also jump aboard and did just that, the league launching on Friday, June 19, 1981 when the AIS played in Adelaide.
Powell's vision and more, his determined intent to make it happen, had created a league and it now was underway.
He coached West Adelaide Bearcats' WNBL team from 1981-1991 and made sure his club conducted itself in the most professional possible manner.
Team photos, publicity, stats – Powell drove it all and on out to the general news media, when he wasn't out chasing sponsorships or coaching his ball club. He was committed and fulltime in every sense.
On court his Bearcats were WNBL semi finalists in 1981-82 and a grand finalist in 1984.
Powell loved and respected the burgeoning new league, whether West was at Bowden, then Athol Park or Apollo Stadium and he again drove pre-game meals for sponsors, media and friends, and post-game functions for all of the above, plus the players.
He was ahead of his time.
But not only is he credited with tipping off the sport's most important women's league and thereby building the game at the top end, he also was responsible in 1976 for bringing mini-ball to South Australia, revealing and reinforcing his passion for the sport at the grassroots level.
Powell also "discovered" one of South Australian basketball's greatest ever players, Hall of Famer Rachael Sporn, brought some of the first quality American imports – such as Rhonda Corkeron (nee Bates) – into the sport and played a major role in the careers of local standouts such as dual-Halls Medallist Cass Pujals (nee Dalton).
Crossing to West Adelaide from Sturt to take up managing the club's Bowden Stadium headquarters, Powell first was a distinguished junior girls coach.
He coached West's under-16 girls to the National Classic title in 1980 and was South Australia's under-16 state coach in 1976-77-78, winning the national championship in 1977.
He held the role of under-18 SA state coach in 1971-79-80-81 and was West Adelaide Junior Coaching Director from 1977 to 1992.
A two-time State senior coach, Basketball Association of SA Coach of the Year in 1987, a WNBL Award of Merit in 1995, a WNBL Executive Member from 1980 to 1984, Powell was awarded WNBL Life Membership in 2001.
In 2013 when West Adelaide Bearcats Basketball Club inaugurated its Hall of Fame, Powell was an automatic inductee and immediately afforded "Legend" status, the highest honour the club could award.
He continued to coach at senior (now NBL1 Central) level in South Australia after his tenure at West ended, successfully steering Central District Lions into a preliminary final and turning Murray Bridge Bullets into a competitive force.
He won a further Coach of the Year accolade along that journey.
Powell passed away in 2019 at 75 but his is a lasting legacy to the sport in Australia and as an inductee into the Basketball SA Hall of Fame, he is long overdue.